Top Types Of High Security Locks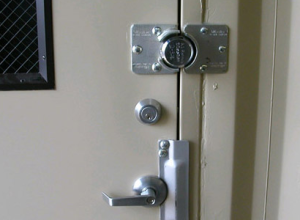 Technology. Easy to use. These are a few of the words/phrases which come to mind today in choosing a new high tech, high security lock system for your home. But, what if not all family members are keen on the idea of going wireless or touch pad with the use of a smartphone? What about lock systems which offer the freedom of mobility, while allowing you to change your codes and master lock settings with the touch of a button. Today, there are hundreds of options from which to choose when installing a new door lock for your home, and hiring a professional to install these locks are your best bet. These are among the top 5 high security locks to consider, when you want security, ease of use, and freedom of range and mobility, when choosing your new door locks for the home.
1. Go with a hybrid –
If you have family members who aren't on board with "smart lock" technologies, or high tech locks, you can choose a multi-use device for your home. The locks combine the power of the pin, touch, or fob pad system, with the leverage of the added deadbolt system allowing you to lock and unlock doors in the traditional manner. It looks like a traditional deadbolt system, but affords you the option of using the key or the pin pad system to lock and unlock your doors. Key fob systems are also available, as are other "smart" technology options, such as using a smartphone or device to arm and disarm the locks.
2. RFID –
RFID technology has been put to use in commercial settings for years, and with just cause. But, why not choose this ultra secure, easy to use technology for your home locks as well? Using a single touch of radio frequency, you can lock and unlock your doors. Further, keys can come in a variety of forms, ranging from a chip, to a fingerprint, to an access card. With added features such as backup codes, and additional security features allowing you to limit access to who can and can't use the locks, this is one of the safest, most technologically advanced options available on the market today.
3. Bluetooth –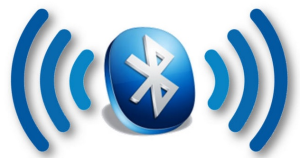 We use it everyday, and now lock manufacturers are incorporating the use of Bluetooth locks for home and commercial use as well. Using your smartphone, and an app as the user interface, it doesn't get much easier than using these locks for your home's security system. The high tech encryption system, alongside the Bluetooth interface, gives you an added layer of security when installing this new lock system for your home.
You can also provide a one time lock, and set an expiration date with these systems. So, if you have guests visiting, or want to continually update the codes if your kids tend to forget things, you can set expiration dates where you will reset the codes, further enhancing the security of this lock system. You can also use remote access on demand with many companies, so if you want even more technologically advanced features, this is something to inquire about when choosing a lock manufacturer, if this is the desired system you have in mind for your home's use.
4. Low Energy Locks –
Via Bluetooth, wireless technologies, these low energy locks are another great options for homeowners in search of security, as well as ease of use, when it comes to choosing a new lock system for them to install on their home's doors. You simply choose the paired device (smartphone, tablet, etc), and connect via a wireless signal, allowing you to lock and unlock the doors, once you reach a certain distance from the door (several feet away from the doors with most systems).
With the touch of a button, you can arm and disarm the locks, so you don't have to go fumbling for your keys every time you have your hands full when getting home from work. By simply touching the door lock, heat technology reads your fingerprint, giving select users access to the door system. And added bonus is that you can set several users, and store their fingerprints, allowing more than one person to have access to the home. And, like other high technology locking systems used today, you can set expiration dates, or use backup codes, in the event the fingerprint scanner is having problems after it is installed. For those in search of technology, convenience, and simplicity all rolled into one, this is a great option to consider when choosing new door locks to install in your home.
5. Touch –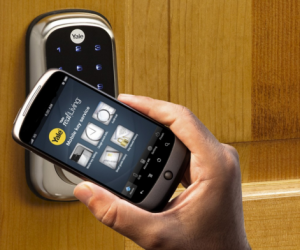 The feature we most love on our smartphones and tablets can also be used to lock and unlock our home's doors. With touchscreen lock systems, you enter the numeric code, which will allow access to the home only if entered accurately. Why not have the same security you have when using a pin number with your debit card at the bank, to allow or deny entry into the home as well? And, as with other touch pin activated security screens, with this lock system, if too many inaccurate attempts are entered, the system will block you out, forcing you to reset it. So, if a burglar or anyone who should not have access to your home attempts to break in, you know they won't be able to with these smart technologies and lock systems in place at your home.
As a homeowner, not only do you want high security, today more and more of us are looking for ease of use, and technologically advanced features with the different devices and products we install in our home. The same goes with the door locks we choose to place on the front doors, as well as any other doors which are located around the home and property. Regardless of which type of features you are looking for, or what level of security and technological advancement you seek, these are a few of the top options to consider today, when the time comes for you to choose and to hire Las Vegas Locksmith Pros to install the new locks, you will place on the home's doors.