Las Vegas NV Commercial Locksmith
Las Vegas Commercial Locksmith
Professional Commercial Lock & Key Services
When you require high-security lock and key procedures put in at your commercial or industrial office building you can be sure that Las Vegas Locksmith Pros can handle the scenario with expert care. Our locksmiths in Las Vegas are experts at setting up high-security lock installations at commercial locations, and we offer free consultation services to help you decide the ideal option for your organization. We function with the main mission to present businesses with high-quality security components and installation that will give them satisfaction understanding that their possessions are safe and secure.
Commercial Locksmith Services
Utilizing the very best merchandise and remaining current with industry trends keeps us in front of the competition in the locksmith market. Work opportunities which require a high skill level to finish, like commercial or industrial projects, need to be accomplished be only skilled locksmiths like our Las Vegas Locksmith Pros. We simply have our most effective professionals carry out jobs like CCTV systems, panic bars, or digital lock install and service. Our locksmiths are capable of accomplishing business lockouts, fixing gate locks, and carrying out lock re-keys on many different types of locks in addition to a number of other jobs, please scan our list of products listed below.
Our list of services includes:
High Security Cylinder Locks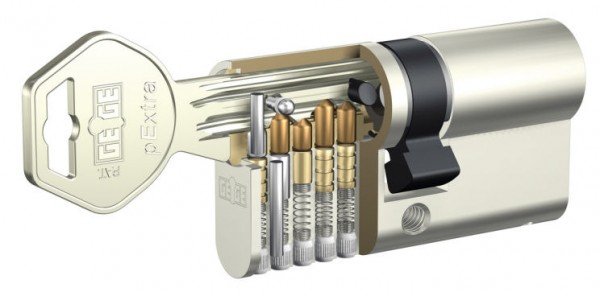 At Las Vegas Locksmith Pros we can provide lock repair, fresh installation of cylinder locks, lock re-keys, cylinder rim lock changes and more.
Mail-Box Locks
Got a problem with your mailbox locks at your business? We provide HOA services and mailbox lock re-keys, lock repairs, and mailbox lock changes.
Lock Re-keys
We can when you need a re-key for your commercial business. When an employee suddenly leaves on bad terms you can't take chances with your businesses information. A lock re-key is a simple and more affordable option to changing all the locks in your office. Whenever moving offices or homes it is important to know exactly who can access your doors. Call to get your commercial lock re-key started today!
Lock Installation
Our locksmiths are experts at installing tons of different types of locks in many situations. We have seen and done it all, from high security lock installations, to deadbolts, to mortise lock sets, we can install the hardware that you have bought or we can bring parts with us to install.
Door Closures Install & Repair
Door Closures provide a safe and reliable door control solution for a variety of facility applications, they are on most outside doors to offices of all kinds. We can install & repair door closures of many different brands and styles.
Safe Repair and Installation
When your safe begins to malfunction or you lose the code and can't open it, you will want to use your LV Locksmith Pros to come open it for you. We repair all types of commercial safes, and can supply the parts and labor same-day in most circumstances.
Vault Repair and Installation
Our locksmiths have been trained to perform repair services for commercial vaults at your business in LV. We have encountered many different types of services for vaults and can surely help you out of your situation.
Desk Locks
When you need to unlock your desk locks and can't find the keys, we can help! We don't need keys to make new ones for your desk, and can re-key the locks of many desks to be opened with the same key for easy use.
File Cabinet Locks
It is very common for people to lose the access to their file cabinets, with lost file cabinet keys being the main culprit. We can make new keys for you and re-key the locks to work with the new keys.
Access Control Systems
A great form of entry for commercial buildings is an access control system, and we can install and repair these systems for you. Access control systems can let you as the business owner know who exactly is coming into your establishment at certain times and allows you a great deal of security. Give us a call to discuss options for your business.
Key-less Access
Key-less access locks and push button systems are the wave of the future in security technology. The ability to not use keys makes entry into a business easier and more secure. We can help you with all of your key-less lock needs in Las Vegas.
Digital Locks
Digital locks can work with or without keys, and generally have a level of magnetism running through them which when relinquished, it lets the door open. We can install many types of digital locks, including deadbolt and mortise locks.
Window Security Bars
Window security bars are important for many retail shops that have windows on the outside of the building. We can help install or repair your existing security bars anywhere in the Las Vegas, Nevada area.
Gate Locks
If you have a gate at your business that needs lock repair, re-keying, or replacement we can help with that. Our locksmiths can consult you on the best option for your security needs and budget.
Panic Bars
Panic Bars are required by law in many states including Nevada. We can help install them, bring them up to code, or repair panic hardware when it is damaged. Give us a call to start today!
Wrought Iron
Wrought iron bars on your store front can offer you a greater amount of security than many other security measures. It is a simple and effective solution to prevent unwanted intruders from getting into your business.
Exit Devices
We offer installation and repair for many different brands of exit device hardware. We install Von Duprin, Adams Rite & more. We can help you get your business exits up to code for your next inspection.
Biometric Fingerprint Access
When you don't want to use locks to enter a certain part of your office building, we can set up a bio metric lock system on a door that you can decide which people can access.
CCTV
Closed Circuit TV Circuit are used to keep eyes on employees, supply lines, or other forms of business. The system is installed in businesses such as banks, casinos, airports, and convenience stores.
Business Lockout
If you are ever locked out of your business, we can get you back in! Give us a call for affordable business lockout in LV.
Master Key Systems
Master key systems make a business more secure, and can achieve many levels of security so that different levels of employees can have different levels of access to your business.
Commercial Lock Brands













We are your Las Vegas Locksmith Pros supplying good quality work at fair pricing. Call to schedule your appointment today or to receive a quote from one of our commercial security specialists. Commercial Locksmith in Las Vegas NV

Average rating:
10 reviews
Dec 22, 2017
Amazing Service
We were super happy with the installation of our new kwikset locks. And the customer service was 10 out of 10
Nov 28, 2017
Great Technicians
We had them come out and install a new access control system for our vault that works beautifully
Nov 7, 2017
Door Closures
Locksmith Pros came and installed new door closures for us today! It really didnt take them that long at all either
Oct 30, 2017
Old Safe
We lost the combination to the safe today but locksmith pros came and helped us out
Sep 3, 2017
saved by the locksmith
an hour before my shift was up i realized i locked ALL my keys in my desk and couldnt find my desk key. thankfully these guys got there before my shift ended and got me into my desk
Aug 19, 2017
Schlage Replacements
i got tired of the old stanley locks in my office so i had locksmith pros come and change all my locks to schlage locks
Aug 6, 2017
Manager Lock Out
A manager of ours called because they were locked out of their shop. I instantly called these guys and they got our manager back in the store and operating with no time wasted
Jul 20, 2017
Fingerprint Access
i recently had locksmith pros come and install a biometric fingerprint scanner on my personal office door and i love it
Jun 1, 2017
new lease
I just got a new lease on my future business location and needed some new window security bars. They came and installed without any problems
May 15, 2017
Quick Re Key
we had an employee leave on bad terms in the middle of a shift without giving their keys back. We called these guys and got a re key the same day